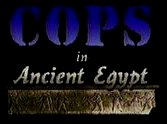 Ben Stiller         Officer Ramses Desipio
			John O'Donough      Lieutenant Osiris O'Donohue
			Bob Odenkirk        Moses
			Andy Dick           Man with golden calf
			Janeane Garofalo    Sarah, woman with golden calf
---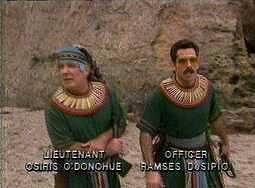 RIOTOUS GATHERING
1441 B.C. 3:15 pm
Red Sea Beach
OFFICER RAMSES DESIPIO
Yeah, this is a pretty routine call for Red Sea Beach, y'know...we get these calls, say six or seven times a week. Basically some religious fanatics, ya'know, claiming they're the Chosen People, attempting to defy the laws of nature in some way.
LIEUTENANT OSIRIS O'DONOHUE
Yeah..it's too bad. This used to be a good neighborhood.
DESIPIO
Yeah..lot of bad elements.
They hear yelling.
O'DONOHUE
Geez, there's the nut now!
DESIPIO
There he is! Alright, let's go! Let's go, Johnny!
Officers come upon Moses on a cliff, staff upraised.
MOSES
Behold! The hand of God! Let the waters part for the children of Israel!
O'DONOHUE
Yo! Show's over!
DESIPIO
Hey, meistro...over here..come over here!
MOSES
What? What do you want from me?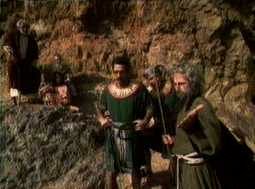 DESIPIO
Come'ere! Alright, what's going on here, huh?
MOSES
I am parting the Red Sea.
O'DONOHUE
You got a permit for that?
MOSES
Yes...
O'DONOHUE

Hey, cough it up.
DESIPIO
Ya got a permit?
MOSES
I mean.. no...the Lord has it. He has commanded it.
O'DONOHUE
Yeah, right.
DESIPIO
Yes, or no, are you trying to part the sea? 'Cause we got it, ok? We saw you, alright?
MOSES
Yes and no. The answer is yes and no.
DESIPIO
Listen to me.. come'ere! Ok, you've got about 40,000 people on the other side of that ridge, right? Are you gonna tell me that you're responsible for each and every one of them? 'Cause someone so much as litters, ok...I gotta take you in.
I'm telling you, you're starting to get on my nerves, alright?
O'DONOHUE

Hey, take a look at what I found!
Can you believe this guy?
DESIPIO
What's this? What're these about?
MOSES
In the name of the Lord, leave those alone.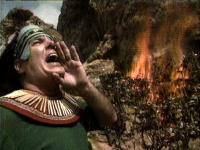 O'DONOHUE


Hey, we got a burning bush over here!

Sees couple running carrying a golden calf.

Hey, where you going? Get back here!

MAN

Run, Sarah, run!

DESIPIO

Ok, listen, I'm gonna give you one more shot to take these people, turn them around and take it back where you came from, ok?

MOSES

I implore you to heed me! The blood of the Hebrews will make no more mortar for the Egyptians!

DESIPIO

Hey, pops. Listen to me, I don't care about that, alright. All I'm saying is that you can't be here right now, ok. You can't be here.

MOSES

But you...

DESIPIO


No-no-no..No buts, alright. That's it. You gotta take it...move it out. Ok?

Cut to O'Donohue chasing couple carrying calf.

O'DONOHUE


Hold it! Hold in the name of Ramses!

MAN

Run, Sarah!

O'DONOHUE

Hold it I said! Where you going?

MAN

Sarah, don't listen to him!

O'DONOHUE

Why you running, huh?

SARAH

We worship the golden calf!

O'DONOHUE


I thought you worshipped your buddy parting the water back there. Where did you get the calf?

MAN

Found it.

SARAH

Made it.

O'DONOHUE

Found it? Made it? What?

MAN

We found the materials...and made it with..what we found.

O'DONOHUE

Get up the hill!

He whips the woman.

SARAH


Oh!

He whips the man.

O'DONOHUE


...I'm too old for this!

MAN


Ow! <Beep> Don't beat Sarah! Don't you beat..ooow!

O'DONOHUE

Get up that hill! Get up the hill!
cut to Moses and Desipio.
MOSES
But you've got to understand where I'm coming from.
DESIPIO
Hey-hey-hey, you want to hear where I'm coming from? I gotta chase you around all day. You think I like that, eh?
MOSES
I'm warning you, do not anger the Lord, our God.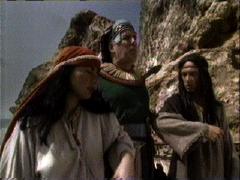 O'DONOHUE
Let me tell you something, your pal here says you've been drinking while prophesizing. That's a felony, my friend.
DESIPIO
That's right, Popeye.
MOSES
You have been warned! (raises staff, thunder and lightning)
O'DONOHUE
Why don't you take a year and let's go build some pyramids, buddy...
He disappears in a puff of smoke.
DESIPIO
What the...? Oh, holymothera...
MOSES
Who will be next to feel the Lord's wrath?
MAN
He must be the chosen one! The Lord speaks through Moses!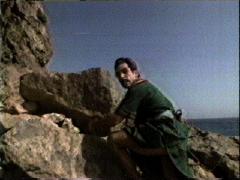 DESIPIO


Alright, this guy, he's obviously hopped up on something. So I'm gonna go ..uh..messenger for backup. We'll get him locked up, but, uh..sad thing is, in about 48 hours, he'll be back out here doing the same thing.

That was my partner, so..uh. Yeah well, you know, that's part of the business. I'm getting the <BEEP> out of here.