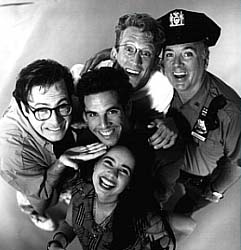 The Stiller cast, exceedingly happy to have jobs..


This section archives current and past news stories concerning the Web site and the Show itself. You can also find additional news items in each cast section.

The hottest news, of course, is that TBSS was on TV for the first time in over five years! The Fx cable network ran a marathon of the Ben Stiller Show on August 1, and may repeat the back-to-back episodes (after all, it's only six-and-a-half hours of programming.)

If you didn't catch it, you might try sending a note to Fx, asking them to replay it.
For more news, check out the articles below: